Invisalign Aligners
If you want a straight, healthy smile but do not relish the thought of wearing metal braces, Invisalign aligners may be the right choice for you. At Dunwoody Family & Cosmetic Dentistry, we offer our adult and teen patients seeking orthodontic treatment Invisalign to achieve a straight smile. Invisalign works like braces, but without the embarrassing metal or uncomfortable wires on your teeth.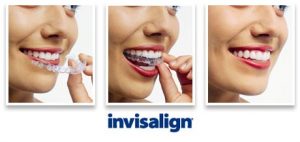 Invisalign is a wonderful option for adults that want to straighten their teeth without braces. The clear aligners are very discreet; most people will never know you are wearing them. The aligners are customized to fit and apply pressure to shift your teeth into the proper alignment. Invisalign works like braces, but without the distracting metal brackets and wires that can be uncomfortable. Every few weeks, you receive a new pair of aligners that will bring you closer to achieving your straight smile.
Invisalign Teen
Invisalign was originally designed for adults, but now teens can also benefit from using this revolutionary orthodontic treatment. Teens are notoriously self-conscious about their appearance and love the discreet design of Invisalign Teen clear aligners. Not only are they almost invisible, they are more comfortable, require fewer visits to the dentist for repairs and are removable. The clear aligners can be taken out to eat or brush your teeth. Teens love that they can still eat the chewy, crunchy foods they love with Invisalign, unlike braces that restrict many of their favorite foods.


If you or your teen need orthodontic treatment but want to explore alternatives to braces, come see us at Dunwoody Family & Cosmetic Dentistry. Invisalign is a comfortable, discreet option to achieve a healthy, straight smile. We have payment options available and many types of dental insurance are accepted at our office.
Invisalign SmileView
Invisalign SmileView simulates your new smile! Take a smiling selfie and we'll show you what Invisalign treatment can do for you.
Try the Invisalign SmileView right now
Contact our office today to schedule your orthodontic appointment to learn more about Invisalign.